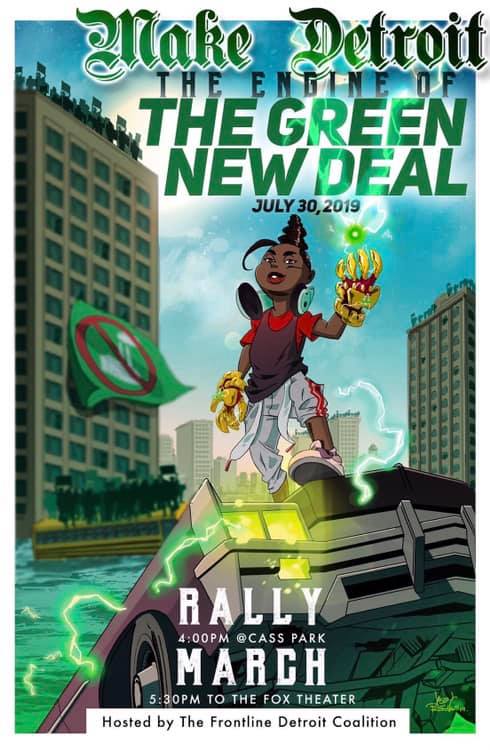 The Democratic Presidential Debate is Next Week!
We've been participating in a coalition of local groups working to bring issues that impact Detroiters and other frontline communities to the forefront of the discussion at the Presidential Candidate debate at the Fox Theater on July 30 and 31. There will be a rally and march Tuesday July 30th.

More Media – Detroit Is the Engine of the Green New Deal Video
Sanaa is featured in a new video that is getting a great deal of attention.
"Many of the candidates are supporting a major environmental and jobs programs This could be a great thing, but only if it prioritizes the leadership, issues and needs of Detroiters. That's why our message is MAKE DETROIT THE ENGINE OF THE GREEN NEW DEAL."
"We'll be raising up issues including water shutoffs, air pollution, environmental racism, emergency management and tax giveaways to corporations and billionaires, the need for good union jobs and worker power for Detroiters, and the work that's beginning to establish a healthy and regenerative economy here in Detroit." Share on Facebook: https://www.facebook.com/events/459306721523008/
ART!
Detroit Frontline Coalition invites friends to join us at the Cass Commons, Sat, Sun and Mon 3-8pm making banners and signs for Tuesday's big rally and march, "Make Detroit the Engine of the Green New Deal", to welcome the Democratic presidential candidates to Detroit.
Facebook event: https://www.facebook.com/events/1188146101372762/?event_time_id=1188146104706095&ti=as